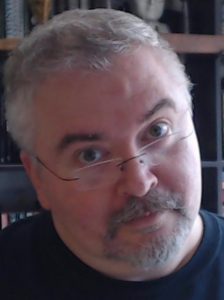 The 'Get to Know' series showcases staff from around the NHS Workforce Alliance (NHS WA) to give you a glimpse of the variety of roles in our organisation and the people who perform them.
This month, we're pleased to introduce Ian Andrews, Technical Director at NHS North of England Commercial Procurement Collaborative (NOE CPC).
What is your background?  
I am a native Scot, born in a little village just south of Inverness, but because I spent my formative years moving around so much I have mostly lost my accent (unless I get very merry, or the rugby is on). I spent a lot of my childhood in south Wales, and still have ties to, and affection for, the area. I have been in the NHS, either permanent or contracting, since 2003, working for the collaborative procurement hubs and their precursor organisations. Most of my experience is around programme and project management, business intelligence, data management and systems.  
What is your role within the NHS Workforce Alliance, and what does it involve? 
I look after NOE CPC's PMO, IT and business intelligence teams; we work very closely with our colleagues in Crown Commercial Service and NHS London Procurement Partnership to ensure the usage and spend data that's collected gets to all five partners, and allows for accurate reporting. We are also working with Jo Barton and Andy Rouse on some automation that will improve the process of recording and sending out beneficiary notices.  
Why are you passionate about this? 
It's the third decade of the twenty-first century. It's impossible to pretend that information, systems and data doesn't matter, that business can be successful without a good grip of data. Technology is moving so fast nowadays and remaining ahead of the curve and using the best tools available is vital if we want to continue be successful.  
What is the greatest challenge you face at work? 
Pace of technological change, and quality vs quantity of data. We aren't short of data – it floods in from a dozen different places all the time. It's the quality of that data, and the task of turning it into actionable information and usable insight for the category leads and the organisation's strategic goals that keeps me and my team so busy. And the pace of technological change is accelerating. MS Teams has only been around for five years, but has fundamentally changed the way we work. I need to be aware of what the next "Teams" style disruptor will be, how it will impact our business, and how we can take advantage of that.  
What was your first job, and how has it impacted your career? 
My first job was as a technical apprentice at Llanwern Works for British Steel, as it was back then. I'm a qualified metallurgist and materials scientist, and I used to undertake metallurgical testing for the steel used in car making back in the early nineties. It taught me the importance of knowing what things are made of and how they react under pressure.  
How would you spend a perfect day off?  
Driving for five hours, booking into a terrible Travelodge, catching a tram, and spending a rainy day sat in the cold watching Scotland play rugby at Murrayfield.